The Client Area add-on provides an easy way to create a client or member area where users can upload files that stay private. Using a shortcode, the interface can be placed in posts or pages and all controls are accessible from the front-end. Users can create folders, browse through the folder structure and delete existing folders and files. A category is automatically created for each uploading user, which can be considered as a home folder.
* Full file and category management from the front end
* Simple interface
* Automatic category creation for each user
* By default, files are kept private and are only accessible by admins
* Mobile compatible (responsive)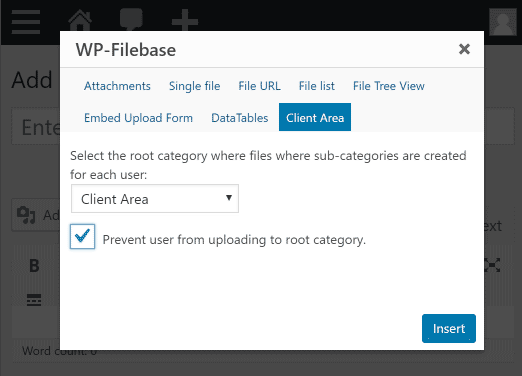 = Application Example: online print shop =
An online print shop allows their clients to upload documents to their account. These uploads must not be accessible by other users except the administrator. Clients can create sub-categories (e.g. folders) for their projects or print jobs. The Client Area provides a front-end interface supporting drag&drop, multi-uploads, editing and deleting files and categories. See interface is kept as simple as possible. For a demonstration follow the demo link.
= Private File Storage =
Each user has their own private file storage. Only administrators can review other's files.