WP-Filebase adds a new button to the visual editor.
Clicking on that button opens the WP-Filebase's Editor Plugin to insert shortcodes into the content. WP-Filebase shortcodes can generate file lists or insert single files into posts or pages.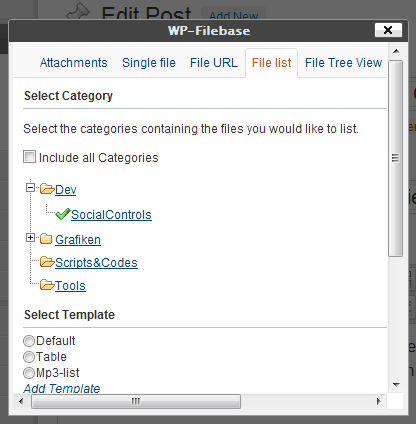 Attachments
This tab includes a file upload form which can be used to upload new files. (See File Form.) Files that are uploaded here will automatically be attached to the post. You'll find a list of all attachments above the form. Below the form there's a file browser.  Click on a file to attach it to the current post. It will appear in the list above after 10 seconds or next time you open the editor plugin.
Single file
Here you can create shortcodes to insert single files into the content. First select a Template. Then select a file. The shortcode will be insert  at the current cursors position in the editor.
File Url
If just want to insert the download URL of a file, use this tab. Select a file out of the browser and enter the linktext.
File List
Insert fully customizable file lists. You can select multiple categories to list, or include all categories. Choose a List Template and set the file sort order and pagination. When you tick 'List selected Categories' files are grouped by category.
File Tree View
Here you can insert an AJAX File Tree like the File Browser. You can select the root category of the browser, so users can only browser in this and all child categories.
Embed Upload Form (Pro)
Here you can generate shortcodes to insert upload forms into the content. You can create embeddable forms on WP-Filebase -> Embeddable Forms.